Race Report: Fernleigh 15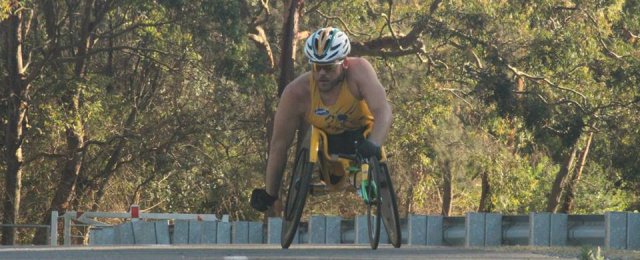 It was a day of local pride when paralympian Kurt Fearnley lit up the Fernleigh track, breaking his own record during the race on Sunday. In it's second year running, the Westfield Kotara Fernleigh 15 attracted 1200 runners plus a mountain of supporters and spectators along the 15 km course, making this annual race a popular community event. The race links Newcastle to Lake Macquarie along the old heritage railway line turned pathway.
The wheelies lined up first and raced away fast – Kurt Fearnely leaving nothing in the tank, crossing the line in 33:54, two minutes faster than his time last year. Nathan Arkley of South Australia was the runner up in a time of 34:55. The first female across the line was Julie Charlton of Cherrybrook.
In the running race Hugh Williams was victorious, taking out the overall title in 46:58 , followed by fellow Sydney sider Matthew Cox who placed second in 47.18 ahead of local lad Vlad Shatrov who placed third in 48:02.
In the ladies division, Natalie Archer of Sydney University was too quick for defending champion Celia Sullohern, finishing the race in 54:07 and 55:41 respectively. Bree Tisdell of Newcastle placed third in 58.22.
Organisers were happy with the turn out – despite fear of the warm conditions and recent fire activity in local bushland. Conditions were warm but it was a pleasant morning for the race everyone seemed to enjoy themselves.
Thanks goes to Athletics NSW for their endorsement of the race and local business The Adamstown Club for hosting the 'Friday Fire Up'.
For results and more information visit www.fernleigh15.com.au