Race report: Big Beach Challenge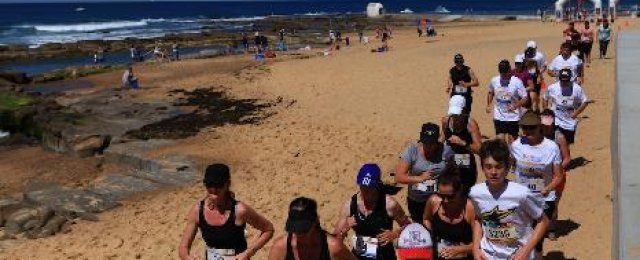 The original Big Beach Challenge was held on Saturday 28 September at the new inner city location across Merewether, Dixon Park and Bar Beaches.
The 3km loop course provided tough sand running conditions for everyone and with a warm wind and sunshine, there was no shortage of determination needed to complete each division. It was great to see 100% of starters were also happy finishers.
For the hard core, things kicked off early with the grueling 10 lap/ 30km race. Winner Emlyn Williams did well to finish under three hours in a time of 2:54:43. He was followed by Gary Brown in second place after 3:19:45 and the first female to cross the line also placed overall third was Ruby Kwong in a time of 3:35:58.
In the "Crazy 15km" course, bib number 1 finished place number 1. Neil Aston took out the division in 1:30:11 with Nicholas Harrison close behind him in 1:31:20. Third place was also hot on their heels considering the distance they had covered over the race - Darren Layt finishing in 1:33:58. The first lady across the line was Sarah Peel-Yates who also finished in fourth place overall.
The "Desert Sand" 2 x lap/ 6km course attracted the most number of competitors who went hard and fast like sand fairies. Bree Tisdell who is no stranger to winning races hosted by H Events took out first place overall in 29:45. Less than a minute behind her was second place getter, Neil Pratt in a time of 30:39. Scott Alder finished in third after clocking 36:32.
The final race of the day was the second biggest group to run and the sprint was on to cover the "Hot Sand 3km" course in a flash. Simon White was too quick in 15:54. He finished a few minutes ahead of Hamish Watson who finished second in 18:10, and Lachlan Watson placed third in a time of 19:43. The fastest female was Belinda Parker in 25:43.
A big thanks to the local surf life saving clubs and beach goers along the strip for their cooperation in what was a new and unknown event. We hope to work with all the beach stakeholders in coming years to build this into a major beach running event for Newcastle.
For full results and more info visit www.bigbeachchallenge.net