Perfect conditions for Sparke Helmore Triathlon Festival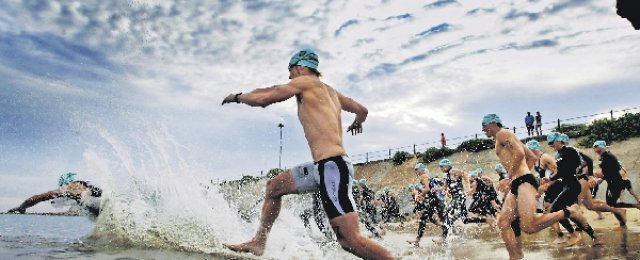 The conditions could not have been better for this year's Sparke Helmore Triathlon, which enjoyed a return to Camp Shortland for 2016.
Jared Medhurst won the Olympic distance race in a time of 2:05.20, well clear of second-placed Will Dawes (2:07.11) and Kyle Morison (2.10.06) in third. Teenage tyro Lachlan Heuston will be one for the future, finishing fourth overall in 2:10.43 and winning the 16-19 age group.
Krystle Hockley was the first female across the line in 2:30.50 and 29th overall.
Jamie Mchugh, Kyle Pinkerton and Tristan Holland joined forces to produce a teams' victory for Team Lingard. Team Fitrig of Nick Haddon, Amber Walsh and Shane Ilgen won the mixed team division and Renee Heinrich, Renee Miller and Nicole Goodwin formed the winning women's team Rnr.
Caleb Agnostino-Morrow won the Sprint race in 59 minutes and 16 seconds. Brock Taylor (1:00.13) was second and Edward Langdon (1:02.34) third. Nicky Western was the women's Sprint champion in 1:08.23 and Maccas Mob took out the teams division.
Adam Linacre (53.43) blitzed the men's Foreshore race, finishing four-and-a-half minutes clear of second-placed Joshua Williams (58.19). Alice Harvey was the women's winner in 1:17.39 and the Automated Innovation trio of Nathan Gill, Alex McDonald and Bevan Leach won the team's title.
Juliana Bahr-Thomson, who will take on a record board paddle from Newcastle to Noosa in the name of charity this year, won the Women's Triathlon in 58.09. Kirsty Haugh was the next quickest in 1:03.25.
Newcastle Tri Club were victorious in the NSW Club Relay Challenge.
The biggest winner of the day though was event charity HMRI.