Flood Update - We are Racing as a triathlon!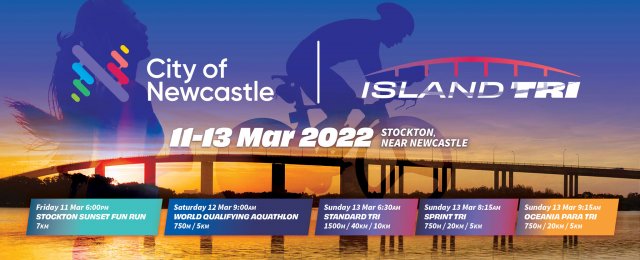 We have been watching the recent rainfall and assessing the affect on our event and can report the following:
The current forecast is for weather to improve from Tuesday. The parks in Stockton drain very well. Please note:
The Friday evening Fun Run will proceed as planned, noting below. 
The Aquathlon on Saturday will also proceed as planned, noting below. 
The Triathlons and ParaTriathlon will proceed as planned, noting below:
The Harbour is currently very dirty and there is substantial water coming down the river. If the harbour is not fit to swim in, we will move the event compound around to the other side of Stockton near the swimming pool and stage an amened swim in the Stockton Pool. This will be in smaller waves to accomodate the numbers, however with a relatively small field so far this will not substantially change the timing of the event. It is not our preferred option, but better than a no swim.
The likely distances will be 750m for the standard and 350m for the Sprint, with the Para remaining 750m. 
There will me no changes to the cycle or run legs, except of course where you enter and exit the course. 
Please not we have not made this change YET and will annocue on Tuesday if the location and swim venue will change. 
We want to thank Stockton Swimming Pool for providing this option to us. 
Dont forget the Ferry is running from 5am on Sunday 13 March so if you are staying in Newcastle, it's an easy Ferry Ride to Stockton across hte Harbour. 
Our course briefing videos for the Aquathlon, Sprint and Standard Triathlon (of course subject to change as above) are below:
Aquthlon https://vimeo.com/685055068
Sprint https://vimeo.com/685056003
Standard https://vimeo.com/685057144
Get ready to race in Stockton. 
Regards
The H Events Team