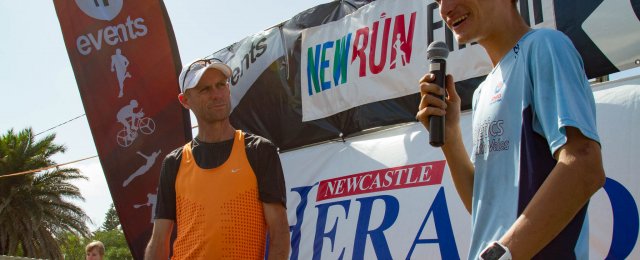 10 reasons why NewRun's 10th anniversary was so successful
The Weather: The weather Gods were smiling upon us for this year's event, providing a beautiful Autumn day to showcase our beautiful city. If anything, it was possibly too warm and we thought it was fitting to remind everyone of the importance of hydration while exercising. Our event medic Russell Setright has highlighted these points: In hot, humid conditions you can become dehydrated in as little as 30 minutes; during exercise it is recommended to break for water every 20 minutes but the amounts of water you are drinking needs to be monitored; it is possible to drink too much water while exercising and this can actually lead to over-hydration which can have dire consequences; thirst can be the first sign you are becoming dehydrated and other signs are fatigue, flushed skin, faster breathing and pulse rate and having trouble exercise; if you are becoming dehydrated find a cool place and rehydrate, drinking slowly. If you are planning to run in hot weather it is good idea to seek out information for hydration while exercising.
The Winners: He is a familiar face around town and was spotted taking event special guest Steve Moneghetti for a sight-seeing warm-up along Darby St but you may have barely seen RunLab coach Vlad Shatrov during the race as he claimed the 10th Herald Hill2Harbour title in a blistering time of 33 minutes and eight seconds. He was well clear of second-placed Christian Lotter (34.30) and legendary Australian runner Moneghetti (35.13) in third. Anna Grant was the first woman across the line in the 10k, Sean Dunleavy won the Marathon Tyres men's half marathon and Sophie Bennett the women's. Robert Hungerford was the Pure Performance 5k winner in 17:30 and Felicity Campbell the women's winner. Each event winner earns themselves a new pair of shoes from Pure Performance Sports.
The sponsors: Such a wonderful community event could not be staged if it wasn't for the many generous sponsors on board. A big thank you to Hunter Orthodontics, Marathon Tyres, The Herald and Pure Performance Sports.
The Supporters: This event has a great support base and many thanks must go to Newcastle City Council, the local police force, Hunter Development Corporation, Port Authority of NSW, Newcastle Buses and community members of Bar Beach and Newcastle who came out to cheer along all the runners on Sunday morning.
The volunteers: How motivating and supportive are these wonderful community members who give up their time to help participants enjoy race day. They are Newcastle Surf Lifesaving Club, Cooks Hill SLSC, 530 runners, Night Striders and Maccas Mob.
The charities: Getting the community moving is a motivating factor in holding these events but the charities are the ones we feel lucky enough to be able to help out. This year's charities were Canteen, Wheel Chair NSW and Diabetes NSW. According to Diabetes NSW, Type 2 diabetes is the fastest growing chronic disease in Australia and "kills more of us than breast, prostate and brain cancer combined in any one year and costs our health system $14.6 billion a year; a figure that could blow out to $30 billion by 2025". The NSW Diabetes website (http://diabetesnsw.com.au/diabetes-focus-whd16/) reports there are 347 million people living with diabetes in the world. They have launched a fundraising campaign to raise awareness and are encouraging people to host a healthy breakfast in April. Check the website for more details.
World Health Organisation made diabetes their focus on World Health Day this week.
The Legend: Some of the kids in the Hunter Orthodontics 2K4Kids may have been asking their parents who the man was handing out awards post-race but organisers still cannot believe their luck to have had one of our greatest ever long-distance runners in Steve Moneghetti come to town and so humbly pose for selfies throughout the weekend and offer up advice to running ethusiasts. Moneghetti is still on the comeback trail from Achilles surgery last year but still powered home in a time most of us could only dream about running. What a champion and what a coup for NewRun.
The participants: When organisers first dreamed up the idea for this event, holding the inaugural Herald Hill2Harbour 10k in 2007, little did they think it would grow to become Newcastle's premiere running event. From one race to a whole festival of running, NewRun has become a highlight of the NSW running calendar. A big shout out to all of the participants, whether this year's event was their 10th or their first. The event could not run without you.
The course: We may be a little biased because we are from here, but it would be hard to find a more scenic running course. It is challenging with a one-kilometre hill climb to start but it is well worth the view when you see Nobbys and Newcastle Harbour in its stunning glory from atop King Edward Park.
The feedback: We hope this event is around to celebrate its 20th anniversary in another 10 years and want to ensure it remains the best event it can be for our town and our participants, so we appreciate your time to complete our feedback survey, which was sent out to competitors.